Global Space Business Bulletin
The Aerospace industry is a multi-discipline sector that includes manufacturing of the primary components of the industry and other production activities such as R&D as well as propulsion, navigation and communications and software development in addition to maintenance.
Israel's aerospace industry sector is well known with capabilities in UAV production and advanced space-launching. In addition, Israel has classic advantages in fields such as relatively low-cost but high-quality manufacturing for Western countries, innovation and entrepreneurship that produce advanced technologies and with operational experience of products.
Many Israeli companies are sub-suppliers that specialize in fields such as machining, electronic systems and components, and composite materials. Israeli companies collaborate with leading international enterprises.
Although the majority of satellite, defense and electronics technology development is conducted by the large Israeli corporations, the UAV segment is promoted by smaller Israeli manufacturers that develop exclusive technology.
The metal, composite and electronics segments are promoted by multiple companies that apply manufacturing technologies and develop additional products used by the aerospace industry.
Israel is a significant UAV exporter in the world, with many advantages, such as manufacturing high-quality products at low cost; the innovation and entrepreneurship that produce highly sophisticated technologies. Israel is known as a world leader in the satellite industry, with the first mini satellites to be developed, and is one of a few countries in the world with independent launching capabilities.
The Israel space industry has also developed installed equipment capabilities as well as developing satellites and launching systems. The capabilities that Israel has developed make it a leader in nanosatellite technology, just as it was a leader in mini satellite technology. There are a number of Israeli start-ups developing new, ground-breaking civil commercial applications. Simulators are another area of expertise due to the increase in commercial air traffic and the higher demand for training tools and simulators with advanced technological capabilities.
The Israel Space Agency cooperates with many space organizations around the world, including cooperation agreements. Among the reasons the Israeli space and satellite industry is a global pioneer in small satellite technologies are the fact that it features high-quality human resources and highly effective work processes, the fact it is supported by Israeli cuing-edge academic activities, and that it constantly interacts with the renowned world-leading Israeli hi-tech sector.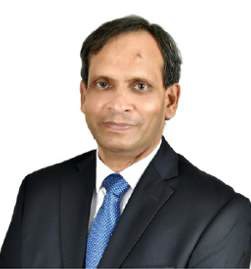 Mr. Joseph Avraham
Consul – Trade & Economics Affairs
Consulate General of Israel in Bengaluru